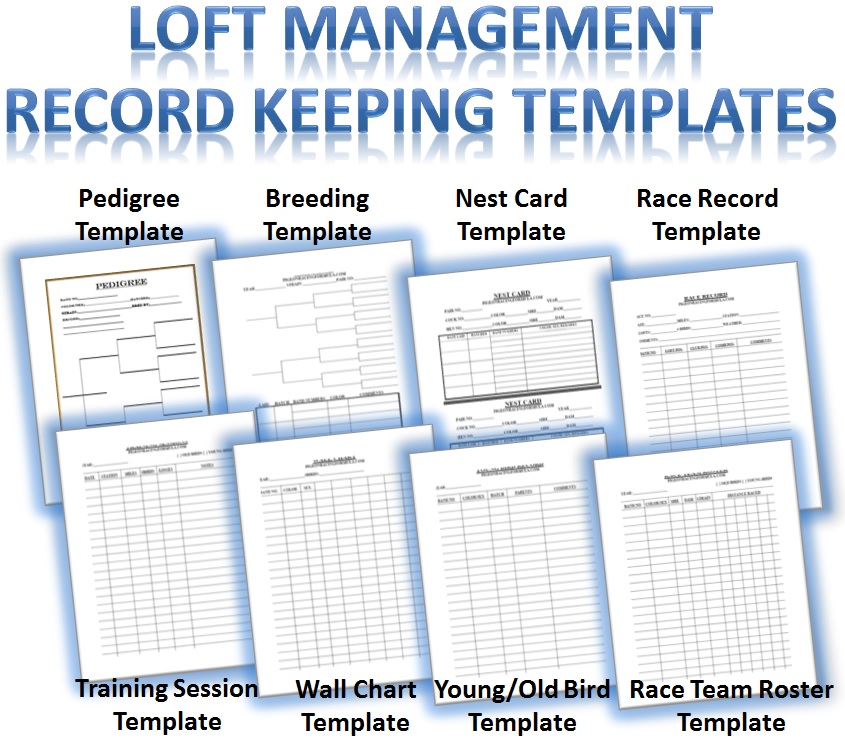 Here's What's Included....

Pedigree Template

To help record the ancestry of each one of your birds, this is essential if selling your bird's later on.

Breeding Template

To help you keep track of all of your breeding pairings and efforts.

Nest Card Template

Simply fill it out and attach to each of your nest boxes to remind and keep track of what is happening in each box.

Race Record Template

To help you keep track of your race results and to easily see which of your bird's are performing the best.

Training Session Template

To help you keep track of all of your training sessions and efforts. This template will allow you to easily pick out your best bird's to send to the races.

Wall Chart Template

Attach one in your loft or office and easily keep track of all the bird's in your loft in one easy to read chart.

Young & Old Bird Template

Print one for your young bird's and one for your old bird's to help you keep track of each.

Race Team Roster Template

Use this to help develop ond put together your champion race team's.

...They All Keep Good Records!

Attention Pigeon Fancier's

What is the ONE thing that ALL champion fanciers have in common?...

It's TRUE!!...

After interviewing dozens of champion fancier's over the years I noticed two major things...

#1) They all had their own systems and ways of doing things...

and

#2) They ALL shared one specific thing in common...

...and the one thing that they all share in common is that they ALL keep great records!

It seemed to be the #1 secret of their success.

Every one of these champion fanciers could walk into their loft at any given moment and instantly pick out their very best bird's and it was all possible because of the record's they kept.

Record keeping allows you to consistently better your birds and race teams performance.

With proper record keeping it allows a fancier the ability to look back at all of your bird's past training, racing and breeding performances and see which bird's performed the best and which didn't.

Record keeping also allows you to see trend's in your bird's as well.

For instance you can see which birds performed better at shorter distances and which performed better at longer distance. You can also see which of your birds perfomed better during certain weather conditions and flight direction.

All by simply looking back at past performances.

Record keeping gives you the edge during races.

It has been proven that keeping great records is the ONLY way to succeed in this sport, plain and simple....

And it's the #1 reason why the champion's remain so successful.

So if you're not currently keeping records of everything your bird's are doing then you are seriously hurting your chances of success.

But don't worry because it's not difficult and today I'm going to give you access to ALL the record keeping templates you will ever need.

Introducing...

Everything you need to keep world class records!

I want to give you 8 of the most important loft managment templates you will ever need!. Simply print them out and put them to use in your own loft. Keeping great record's is one of the most important things you can do to become a successful pigeon fancier and race winning champion.

These templates are essential for any fancier and easy to use and are the same exact record keeping templates that the champions use to document their bird's performance.

The best thing about these templates is that you can simply print them out over and over again without the need to buy new templates.

This is literally everything you need to keep track of everything your pigeons do. From racing, training, breeding and pedigrees everything is covered in these 8 templates.

Keeping Good Records Will Be The Most Important Thing You Will Ever Do In This Sport!!

8 of the most powerfull loft management templates available.

4 generation pedigree template a must for ancestry and selling your birds for profit.

Nest card and breeding record templates, designed to document your breeding efforts.

Training session and race record templates designed to track your training sessions and racing performance.

Handy wall chart template, ideal for hanging in the loft to monitor the progress of the birds.

Simply print and use over and over again!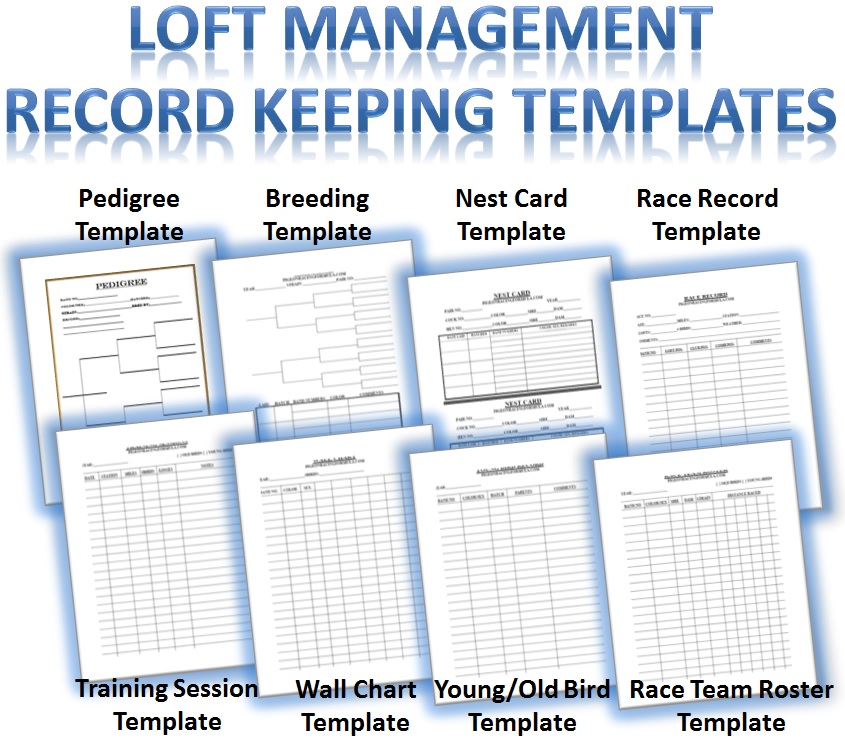 Get Instant Access to All 8 Record Keeping Templates right now for only...

Click the "Download Now" button below to get instant access to all 8 record keeping templates right now.

So if you are not currently keeping records of everything your bird's are doing then you need to seriously start right now!

Honestly, keeping records of your bird's is that IMPORTANT!

Just imagine...

Being able to track every single training session and race performance of all your bird's and being able to easily pick out only your very best bird's to send to the races. No more wasted money on sending the wrong bird's to the races.

Record keeping allows you to build "super race teams" of only your most hard working and fastest bird's. Whithout keeping records it would just be a guessing game.

Now imagine...

Being able to easily pick out and pair your very best breeder's and breeding your very best bird's over and over again allowing you to fill your loft with "super bird's" of race winning background's. Record keeping is the secret to doing this.

and that's only a portion of what these record keeping templates will help you to do!

Proper Record keeping take's the guess work out of pigeon racing and put's the races in your favor!

While other fancier's simply guess and waste money by sending their worst bird's into the race, you will be able to do exactly what the champion's do and consistently send only your very best bird's into the race and maximize your chances of winning.

So make sure you take advantage of this very special offer right now and start doing exactly what the champion's do to win races... keep great records!